Spending the day at the NAU Teacher Recruiting Fair. If you know anyone interested in the following positions, send them our way! -Kindergarten -1st grade -K-8 teacher -Special Education -High School Science -High School Choir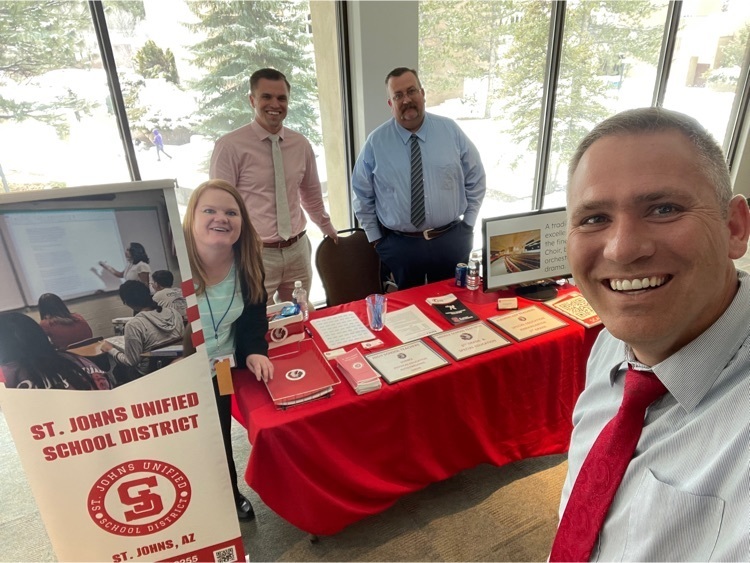 8th Grade Basketball Playoffs **WEATHER PERMITTING** GIRLS - play the Snowflake Lobos at the SJMS @4:00 on March 2, 2023 BOYS - play the Snowflake Lobos at the Snowflake High School gym @ 5:00 on March 2, 2023

Due to a mojority of our Track athletes still involved in basketball, SJMS TRACK is starting MONDAY MARCH 6, FOR ALL 6, 7 AND 8 GRADE PARTICIPANTS. Practices start at 3:15-4:20 at the High School Track. Those students that have signed up have been given a packet to bring home for their physcial and other paperwork and the sports fee. Please get those done asap. If your student does not bring one home, they can pick one up in the office. Parents please pick up your student/athlete no later than 4:30. All 6th graders will need to go home after school then get a ride to the High School for practice.

ATTENTION : Due to the bad weather, The 7th and 8th grade Basketball games with Show Low are being cancelled for today and tentatively rescheduled for Monday February 27. They will be played as originally scheduled Boys in Show Low and the Girls in St. Johns.

The fire department has resolved the issue and students are clear to go to class.

Update: the fire department is still working on the issue at the Coronado school. Students are on the buses to keep warm. We're hoping for resolution soon so kids can get back in the building.

UPDATE: The Sanders and the Concho/Hunt bus routes are CANCELLED for today. All other bus routes are on a 2 hour delay.

All of our schools will be on a 2 hour delay this morning. Sanders and Hunt/Concho bus routes on a 2 hour delay for now.

Our SJMS 7th and 8th grade boy Redskins will be taking on the Round Valley Elks in Round Valley @ the middle school today at 4 and 5 p.m. If you are unable to get to the game it will be live streamed at the following:
https://www.youtube.come/watch?v=P8GE4NmMMNU
The SJMS Lady Redskins will be taking on the lady Elks at the SJMS gym at 4 and 5 p.m. today Come and support your Redskins!!!

Todays SJMS boys basketball games times have been changed to 3:30 and 4:30.

February Menu

These young men have worked hard all season and are headed to State Wrestling tomorrow in Prescott. GOOD LUCK BOYS!!!! GO REDSKINS!!!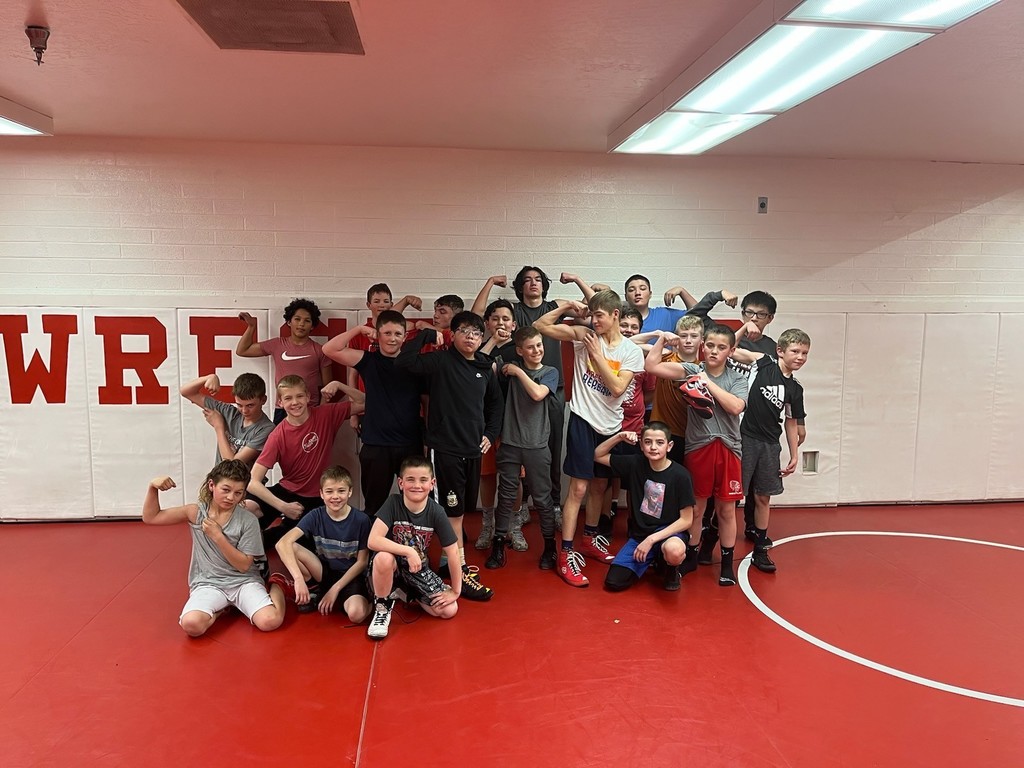 *ATTENTION* The Middle School Spelling Bee will be held tomorrow 1/26 @ 10:00 am in the MS Gym. Families are welcome to come and watch.

OPENING FOR PART-TIME POSITION The middle school is in need of a one-on-one aide for an amazing young woman. Those interested would just need to be able to qualify for a fingerprint clearance card, be dependable, and love to be around kids. The position would be part-time: Mondays and Tuesdays from 8am-3:15pm. If you or anyone you know is interested, please reach out to Kate Stumbaugh at the district office:
kstumbaugh@staff.sjusd.net

Due to icy conditions, the Hunt/Concho bus route will be on a two hour delay in the morning. All other bus routes will be on regular schedule.

EXCITING NEWS! Over the past year, the school district pursued a grant (the Final Mile Project) that would bring a high-speed internet provider to St. Johns. Our hope in pursuing this grant was to provide an option for high-speed internet for our students in their homes while also giving community members this much-needed option as well. In short, after a long process, we were awarded the grant and Triad Wireless (based in Phoenix) has installed towers at each of our schools and is now offering high-speed internet plans to community members. Attached is Triad Wireless' flyer that includes their contact number for any community members who are interested. A "line of sight" from your house to one of Triad's towers at one of our schools will be needed. If you call Triad Wireless, they can provide more details. Please note that the schools and the district have no control over Triad Wireless or their services. Once you sign up with Triad, you will be dealing only with Triad, not the schools. Students who qualify for free or reduced-price lunches and others may qualify for a discount on their internet services through the Affordable Connectivity Program. See website for details:
https://www.fcc.gov/acp
We hope that this high-speed internet option can be beneficial to some in our community.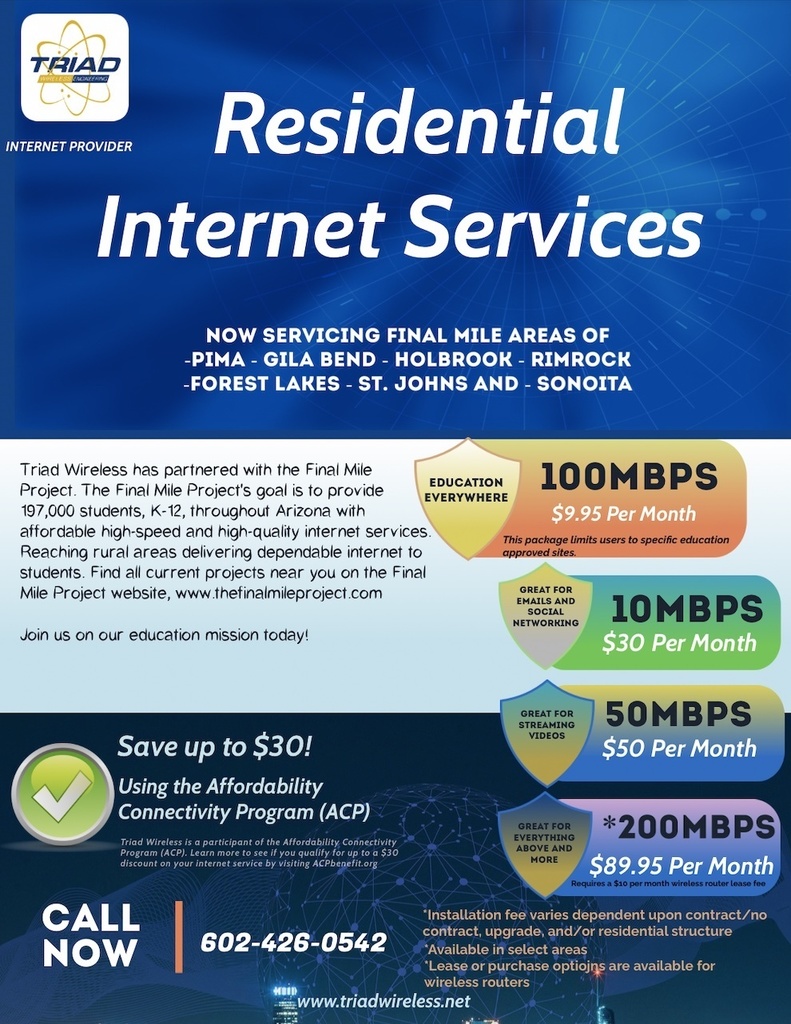 Buses are running on a normal schedule this morning. If you are driving to the schools, please be safe and drive slow as needed.
Parents, just a reminder that the orchestra concert is tonight at 6:00 pm at the high school auditorium.

SJMS 8th grade girls Volleyball team will be hosting a playoff game on Thursday December 15th @ 4:00 p.m. against Joe City. Game will be at the SJMS gym.